Together For a
Better Future
We care for the environment and we strongly believe in building a sustainable economy to provide a better future for all of us. For this we look at 5 subjects
Driving Change with Big Data
Unique Culture and Great People
Download our Sustainability Report
You can fill our form and download our 2020 sustainability report
Our Sustainability Journey
Respect for Nature Respect for People
Speaking the language of sustainability
Today with millions of people living in poverty and the planet's resources are scarce more than ever, our values help us drive positive change and to act in a rewarding way as a trusted partner for the fashion industry. As one of the greatest clothing producers in Turkey and a solution partner for global brands we truly believe we can make a real difference. As we wholeheartedly believe, style, design and production have to speak the language of sustainability, helping to transform the fashion industry for better.
For this reason, we set our company goals and values in a way that is economically, socially and environmentally sustainable as possible. For all processes we use ethical product sourcing. We invest in people to ensure lifelong sustainability and we strive to ensure that all aspects of our business are environmentally friendly.
Leading the way to a sustainable textile industry for a better future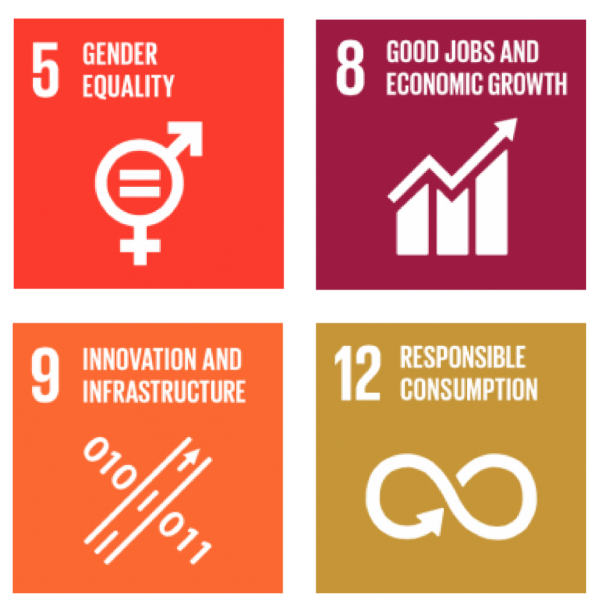 We are aware of our current impact and we believe we should ensure a better World. In order to achieve this vital goal, all our corporate strategies and policies are defined within the framework of sustainability. We plan all our actions and progress based on our sustainability plan which is structured on our corporate values. We aim to make sustainability a part of SunGrup's DNA.
As Sun Grup, we are a participant of the world's largest corporate sustainability initiative UN Global Compact. We support 17 SDGs and we have identified four SDGs that we believe can have the greatest impact and contribution.
We established a Sun Group sustainability committee to better align company goals and The sustainability committee consisting of board members, group companies general managers, human resources managers, corporate communications managers, sustainability managers and experienced environmental engineers.
We initiated five sustainability working groups each led by a member of the Sustainability Committee. These working groups are Sustainable Product Design and Development, Sustainable Human Resources Management, Environmental Sustainability, Sustainable Technologies and Digitalization and Corporate Governance Working Groups.
Sustainable Product Design and Development
Focus on: Sustainable products, collections and circular fashion designs, searching for sustainable materials and promoting sustainable packaging.
Sustainable Human Resources Management
Focus on: Training and development, leadership programs, collaboration and teamwork, talent management, diversity, workforce engagement.
Environmental Sustainability
Focus on: Sustainable production, renewable energy investment and waste reduction, increasing awareness about sustainability and climate crisis among all employees.
Sustainable Technologies Digitalization
Focus on: Developing digital maturity index for Sun Grup Companies, changes in business model, providing new revenue and value producing opportunities, analyzing outcomes of this index and setting strategies for companies.
Focus on: Good corporate governance practices and code of conduct. Committees under corporate governance: Audit Committee, Early Detection of Risk Committee, Corporate Governance Committee
Explore Our Sustainability Journey
1. Products Loved by Nature
We adopt an environmentally friendly approach in all our processes, from design sketch to product.
2. Respect for Environment
Textile and apparel industry is one of the most damaging sectors to the environment has led us to focus more on protecting the future of our planet.
3. Driving Change with Big Data
We multiplied the efficiency level of our sustainable design and production processes with our digital transformation practice.
4. Unique Culture and Great People
Creating an inclusive environment where our colleagues can be their best selves increases productivity, sustains our business continuity and helps us to attract and retain talent.
5. Committed to Community
We care for our community as well as our environment. We support local councils and schools to improve their standards.